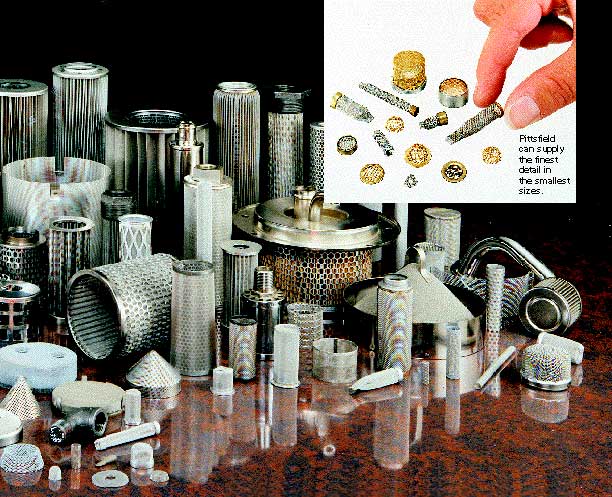 Custom Part Manufacturer
From simple circular stampings to complex shapes and assemblies, with part widths or diameters down to 1/8" or less, and lengths up to several feet, we can produce quality parts efficiently and cost-effectively. Operations performed include: shearing, stamping, pleating, forming, plastisol coating, tumbling, and other finishing operations. Assembly methods include resistance welding, Mig. & Tig welding, brazing, soldering, riveting, crimping, staking, and cementing with epoxy adhesives.
APPLICATIONS IN ALL MAJOR INDUSTRIES
Pittsfield custom‐made parts and assemblies are used by industry for:
Straining
Filtering (in customer's housing)
Screening of Dry Materials
Flame Arresting
Electrical and Magnetic Shielding
Protecting Parts, Equipment and Machinery from Damage
These products are used with pumps and compressors, fuel, water, and steam lines, hydraulic and pneumatic controls and equipment, process lines handling liquids or gases, plastic and rubber extrusion presses, electronic equipment, refrigeration systems, and many other applications. Some of the industries where our products are already in use include:
Nuclear Power
Automotive
Chemical Processing
Marine
Metal Working
Ordinance
Petroleum
Plumbing Specialty
Steam Specialty
This website details parts and assemblies produced by Pittsfield Products. They are only representative of what we're capable of producing. If you have a special need or application, we invite you to contact us so that we may show you more products, or supply a prompt quotation.